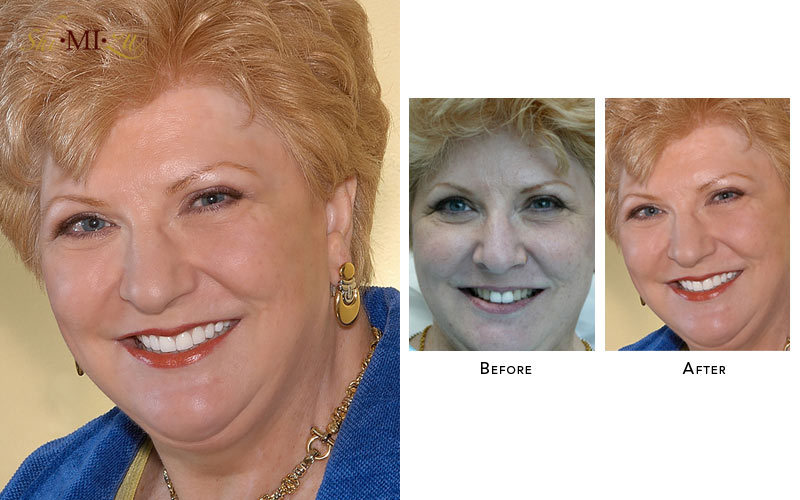 Teeth whitening won't work on Crowns or Veneers
Fix tooth shade mismatch
Uneven teeth color is not the reason for you to hide your smile. If the color of your crown is too white and opaque and they become more noticeable, we recommend that you get a porcelain veneer or crown to flatten the color of the teeth.
Matching the color of teeth is tricky. Teeth have shade, not just a color. If you have a dental crown or veneer with a different color from the rest of the teeth, you cannot expect even colored teeth afterward. Because the crown or veneer is made of inorganic material, crowns or veneers will never respond to teeth whitening the way your real teeth will. Conversely, it is impossible to match the rest of the teeth to the color of the crown.
Toni had two front crowns. The color of the crown is white and too opaque, making it stand out. We achieved a nice smile with eight veneers and an all-porcelain crown. A beautifully shaped smile made up of bright white teeth helps with a youthful look.
Dr.Shimizu is an implant dentists who have proven levels of experience and skills. He will seat crowns correctly the first time, giving your a new smile that will make you look and feel more attractive.
Giving people the smile they want is our passion!
About Us
Dr. Shimizu is an accredited member of the American Academy of Cosmetic Dentistry. There are only 404 dental professionals worldwide (Only six in Houston area) as of 2020 who have achieved this prestigious honor.
Our Contacts
11757 Katy Freeway, Suite 960, Houston, TX 77079