Full Mouth Rehabilitation
Rehabilitate your teeth
Full mouth rehabilitation is a highly individualized treatment to optimize oral health by rebuilding all of the teeth in both the upper and lower jaws. Full mouth rehabilitation typically includes procedures like crowns, veneers, and bridges. Full mouth rehabilitation can be the answer if you are looking to renew and revitalize the appearance of your smile. Dr. Shimizu can transform and rehabilitate even the most troublesome dental health issues, such as teeth damaged by significant wear, breakage, or decay.
The patient images shown here are the American Academy of Aesthetic Dentistry Award-winning case and cover story received by Dr. Shimizu. The patient's teeth were not visible when she smiled, and she complained that she always felt uncomfortable when biting food. We corrected her biting problem, which allowed her to show more teeth and chew easier than before. Also, we lengthened her teeth to show more teeth with porcelain crowns and eliminated unsightly metal fillings and metal crowns.
Full mouth rehabilitation involves restoring teeth, bite, and confidence of our patients with complex challenges back to a natural-looking healthy, radiant smile. You deserve to look and feel your best, call our office today to discover how we can help you.
Porcelain crowns are virtually undetectable among your natural teeth. Using only state of the art materials and laboratories, Dr. Shimizu's crowns offer beauty, function and reliability for superior results.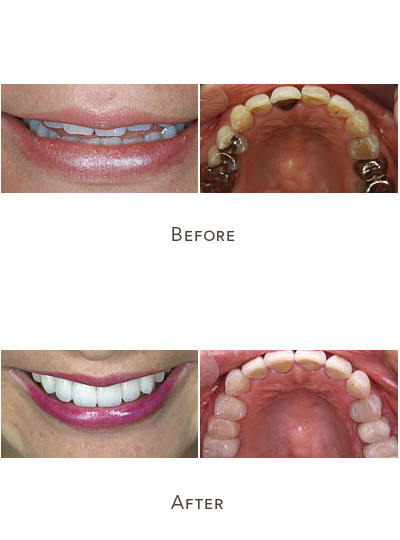 Giving people the smile they want is our passion!
About Us
Dr. Shimizu is an accredited member of the American Academy of Cosmetic Dentistry. There are only 404 dental professionals worldwide (Only six in Houston area) as of 2020 who have achieved this prestigious honor.
Our Contacts
11757 Katy Freeway, Suite 960, Houston, TX 77079