What is instant orthodontics?
---
Instant Orthodontics is a quick way to fix crooked, correct overlaps, eliminate gaps, and straighten teeth without the need for metal braces; it is a method of prompt teeth arrangement for people who want instant results. If you are seeking to fix the appearance of the crooked teeth and function of your smile in a short time, instant orthodontics without braces can be the answer.
Porcelain Veneers used in instant orthodontics are one of cosmetic dentistry's more subtle and versatile options for achieving a beautiful smile. They are made of a thin, translucent porcelain that is permanently bonded to the tooth. These thin shell-like restorations can correct alignment, chipped or broken teeth, spaces, length, shape and color of your teeth with minimal preparation to your natural tooth. Porcelain veneers have the ability to reflect tones, shape, and texture of a natural tooth providing a new and improved smile.
The advancements of modern technology and ceramic materials can straighten the teeth without wires, reshape and brighten teeth to offer the appearance and functionality of the smile you've always dreamed of in couple visits. It is a great alternative to braces!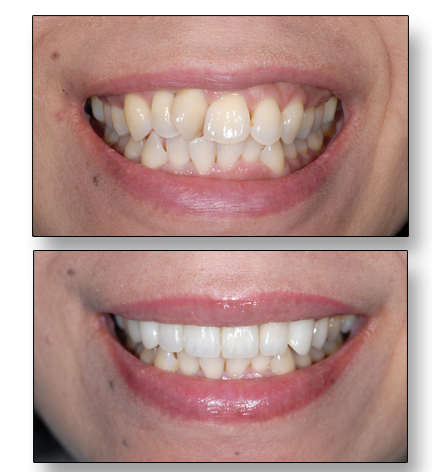 When my front tooth chipped off, I was so distressed; but that lead me to a wonderful new smile. I had a series of upper teeth problems that were solved by Dr. Shimizu's artistic skill. Now my upper teeth are just perfect in every way. Now I have a great smile. Thank you, Dr. Shimizu!"
Toni H
Houston, TX