Match the shade of your natural teeth
Tooth color restoration uses tooth-colored composite material to replace silver amalgam fillings and restore a beautiful and healthy smile. With metal-free restoration materials such as porcelain or composites, it is finally possible to beautifully repair and match the color of your teeth.
Dental Inlays and Onlays make it possible to replace unsightly silver fillings and restore teeth that are cracked or fractured with beautiful and healthy tooth-colored restorations. Inlays are a particular type of filling that can address cavities and other damage; they fill in holes and hollows in a tooth in the cusps. Onlays fill like a cap or cover that extends onto more of the teeth' chewing surface; they work similarly to crowns but do not cover the tooth's entire mass.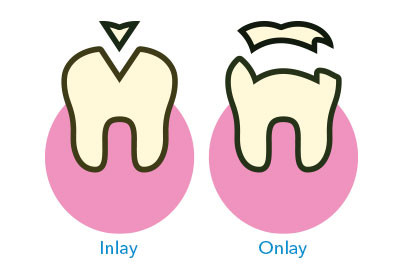 Inlays and Onlays are the optimal choices for metal-free repairs providing long-lasting strength and durability over conventional fillings and allowing for more of the natural tooth to be conserved over dental crowns and bridges.
Artistic talent and expertise in cosmetic dentistry ensure they will be designed to match your teeth, reviving your natural strength, wear, and function, providing beautiful, seamless restorations. Contact our office to discover more about these metal-free restorations that are virtually impossible to distinguish from your natural teeth!
About
Dr. Shimizu is an accredited member of the American Academy of Cosmetic Dentistry. There are 419 dental professionals worldwide (Only four in Houston) as of 2022 who have achieved this prestigious honor.