What are No-Prep veneers?
What are No-Prep veneers?
Working as a cosmetic dentist, many patients ask me "What are no prep veneers?" No-prep veneers are minimal preparation veneers or noninvasive veneers so thin that little to no tooth reduction is necessary. In contrast, traditional porcelain veneers are much thicker, requiring the grinding down of your original tooth structure. (photo below shows the patient's right-hand side with veneers try-in and her left-hand side are her natural teeth.) Patients come to the office to have an evaluation of their teeth. We take impressions, send them to the lab, and in about four weeks, we receive the veneers and place them. But the most extraordinary part of this procedure is that we don't use a needle or anesthesia to numb the area that we are working on; This means no grinding and drilling!
People who have problems with tetracycline stains and no-prep veneers are an excellent option because they can change their teeth color at once, in most cases, in only three visits. Patients that have been waiting for years to close those gaps with braces, no-prep veneers are an excellent option for them, because they don't need to wait for several years, they don't have to wear wires on their teeth, they can change the shade of their teeth to a whiter color, and also improve their shape. All of this can happen in just three visits. Isn't that great?
No-prep veneers are also a good option for those who have short teeth that do not show when they smile. Cosmetic dentists can make a significant change by giving them a natural proportion and length to create a new beautiful smile. It is as easy as coming for a "record taking" visit (which means taking some impressions without anesthesia and also taking pictures of your smile). We send the impressions and photographs to the lab to make "mock-up teeth," which is a guide for their new smile, and after three to four weeks, we deliver the veneers.
No-prep veneers are for all ages. It is becoming more common to see the younger generations choosing to do this procedure instead of doing braces. They like seeing the results without waiting for many years. It is especially significant when they have a big event coming up, like a wedding or a work interview. Believe it or not, this will change people's lives by giving them a boost of confidence, where they won't be afraid to show off their smiles. It is fantastic to see these results on patients that come to the office. Patients come in quiet and nervous. But after a couple of weeks when we finish placing veneers, they look cheerful and confident with their new smile.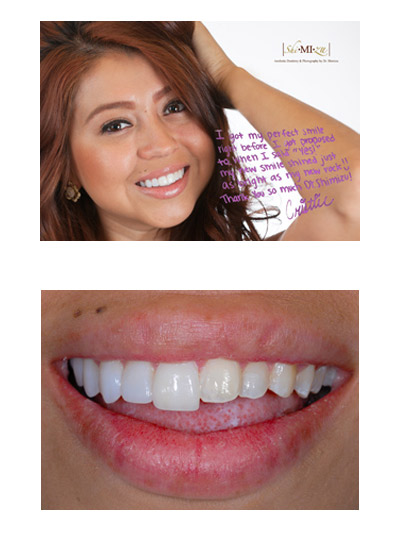 Giving people the smile they want is our passion!
About Us
Dr. Shimizu is an accredited member of the American Academy of Cosmetic Dentistry. There are only 404 dental professionals worldwide (Only six in Houston area) as of 2020 who have achieved this prestigious honor.
Our Contacts
11757 Katy Freeway, Suite 960, Houston, TX 77079