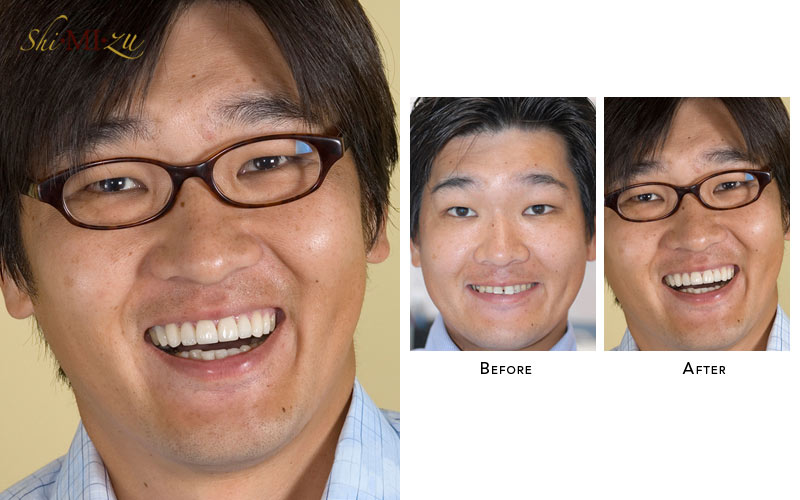 My front teeth that stick out!
Now, my teeth are straight without wearing braces
Guy had flared out front teeth with unsightly spaces. Self-conscious about that gap between his teeth and flared upper teeth. After being presented with treatment options, he decided to receive cosmetic dental treatment and resolve his flared teeth' problem without getting braces. With eight all-porcelain crowns, his protruding front teeth were fixed without braces. We changed each tooth's angle and gave him a straight, beautiful, and functional smile without spaces.
Dr.Shimizu is an experienced cosmetic dentist. That's why patients from all over Houston, Texas, and the other states come to see him for Smile Makeovers. He will attach your porcelain crowns correctly the first time together with instant orthodontics, giving you a new smile that will make you look and feel more attractive.
AACD Award for flared teeth treatment
Dr.Shimizu received an award for this smile design in recognition of his artistic skills and talent. The American Academy of Cosmetic Dentistry's prestigious Smile Gallery award is achieved for exceptional results in clinical cosmetic dentistry.
Giving people the smile they want is our passion!
About Us
Dr. Shimizu is an accredited member of the American Academy of Cosmetic Dentistry. There are only 404 dental professionals worldwide (Only six in Houston area) as of 2020 who have achieved this prestigious honor.
Our Contacts
11757 Katy Freeway, Suite 960, Houston, TX 77079