One tooth is not straight?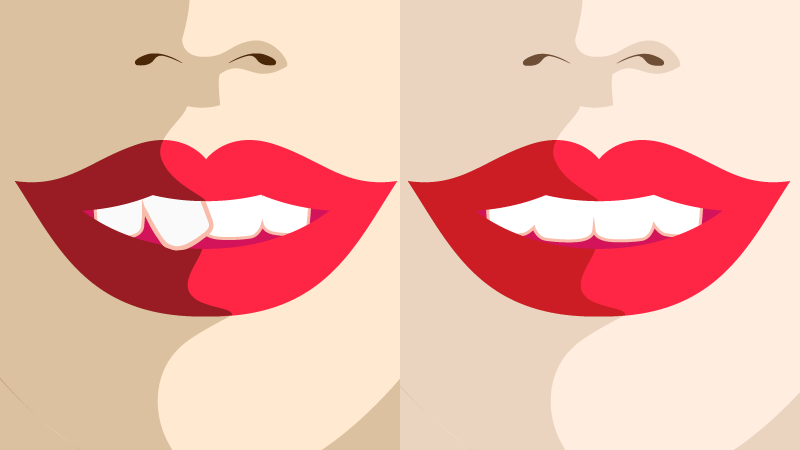 When you have one crooked tooth, you might think about traditional metal braces or maybe Invisalign. These are orthodontic treatments, which means dentists try to move your crooked tooth, which is an excellent idea if you have nice-looking teeth.
As an adult, you might already have or had cavities, wear, or discolored teeth. You might have unpleasant-shaped teeth. If that is the case, moving your existing tooth or teeth does not help. After years of ortho treatment, you will have straight, nicely aligned unpleasant-shaped teeth. After ortho treatment, you might want to have a veneer to fix the shape.
If you can skip the ortho treatment, you will save time and money. With careful planning, and cosmetic technique, and case selection, you can forget the time-consuming ortho phase of the treatment to achieve a nice straight, good-looking tooth.
How do we proceed with tooth straightening?
Step 1: Treatment Initiation
First, cosmetic dentists need to check the gum health and occlusion, then check the gum line if they are even or within normal range. Also, making sure the tooth movement or changing the angle that we want to achieve is not too much. If we need to move the tooth position or the tilt a lot, we need an aggressive prep of your tooth, which might cause unnecessary root canal treatment, or the result is not natural.
To plan those, cosmetic dentists need to do a mock-up/wax-up on your teeth to see if it is doable without root canal treatment. This is the process to do treatment on your copied tooth to see the result without grinding your teeth to go back still to plan B if necessary.
Step 2: Test drive
Once the treatment plan has been decided, the cosmetic dentist copies the mock-up on your tooth without prepping your tooth or minimum prep so that you can test drive your new tooth that is straight. You can check for a couple of days or weeks, and if you see some problems, you can come back and re-adjust the mock-up temporarily without anesthesia.
Step 3: Seating/Placement
When you and the dentist are satisfied with the result, we can finally proceed with the treatment. We can now prep your tooth, then take the impressions (molds). Then, we send it to the dental lab to fabricate a crown or a veneer. Cosmetic dentists should take photos and the dental impression of the final mock-up so that the lab technician knows exactly what shape you like. Cosmetics dentists need to send the tooth color information with the color-corrected cameras and color mapping drawings along with that information.
Step 4: Check and Adjustment
We get a custom-made crown or veneer in a couple of weeks and seat it in your mouth after we both agree it is cosmetically pleasing. Then, after a couple of weeks, you will need to come back for a bite adjustment or minor shape adjustment. This way, we can skip orthodontics to straighten the teeth.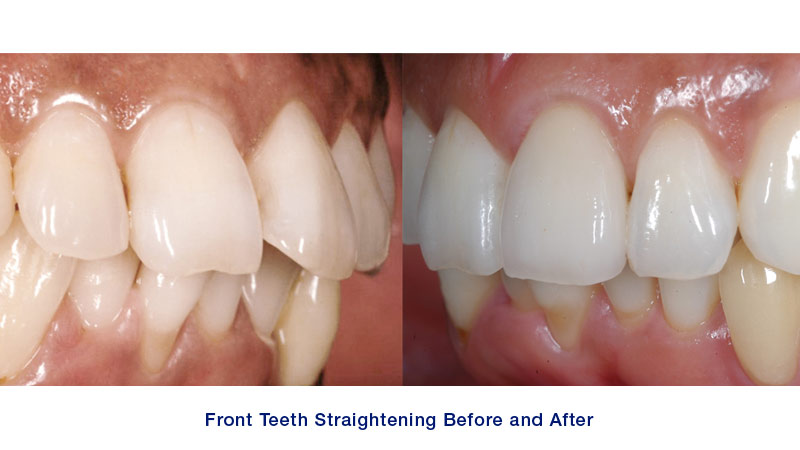 The advantage of doing this is that you can save time and money. However, since we do not move your teeth at all, the most crucial point is you do not have to worry about relapse. And you don't have to wear a retainer to prevent relapse (tooth position will move back to original after braces if you do not wear retainer). So it's a massive benefit to you.